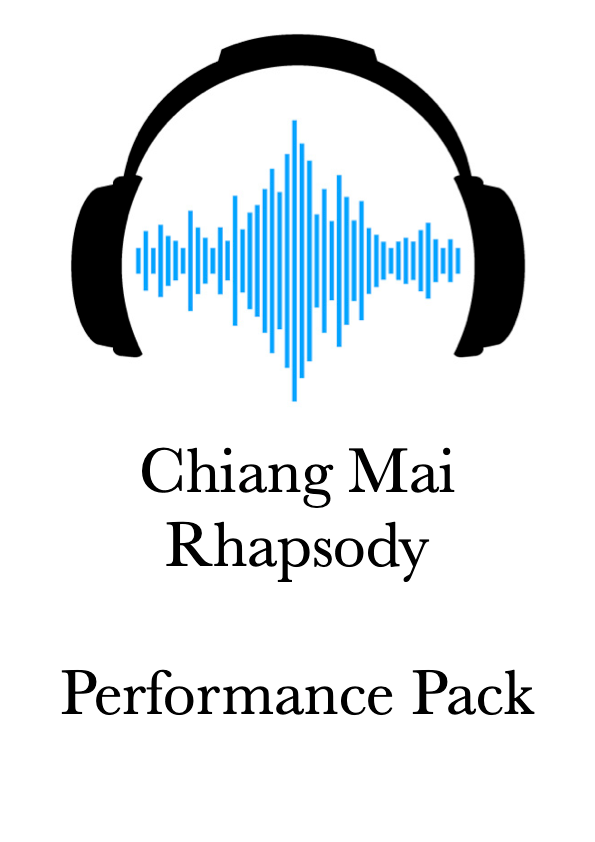 Chiang Mai Rhapsody Performance Pack
Regular Price

€9,95

Sale Price

€9,95

Regular Price

Unit Price

per
This performance pack contains 9 files in both WAV and MP3 format consisting of the following:
Complete recording with piano and orchestra
Piano part alone
Piano duet
Orchestra alone with count in - slow and normal speeds
Orchestra alone with click throughout - slow and normal speeds
Orchestra alone without click - slow and normal speeds
'Read Me' PDF instructions
Normal speed recorded at 126 beats per minute
Slow speed recorded at 100 beats per minute
Wav files encoded at 44.1kHz 16 bit
MP3 files encoded at 192kHz
Sheet Music for Chiang Mai Rhapsody Part 1
Sheet Music for Chiang Mai Rhapsody Part 2
Very good!!!
Hi, David,
Congratulations on your composition
Chiang Mai Rhapsody. Unfortunately, still for work and family, I didn't have time to start studying it. However, I also like it very much with orchestral files. I don't know if it will be possible to purchase the orchestra files separately in the future. I always follow you. Greetings from the province of Florence. PS: Will you come to Tuscany for a concert?
Cannot get enough of this Rhapsody
Back in October (2021), I purchased the Performance Pack as I wanted to listen to all the versions of this magnificent Rhapsody. I still listen to this pack every night and even have the piano duet as the ringtone in my phone. Way too good!
Powerful !!
What an amazing piece !
I've been learning it for 6 months
And almost done
Playing it with the orchestra is challenging but satisfying !!
A great new way of practicing !
A great opportunity to play alongside one of the masters. Love the idea of playing a duet and practicing with a professional track . It would be great to get another track for ' The Letter ' . Thanks and look forward to the next one