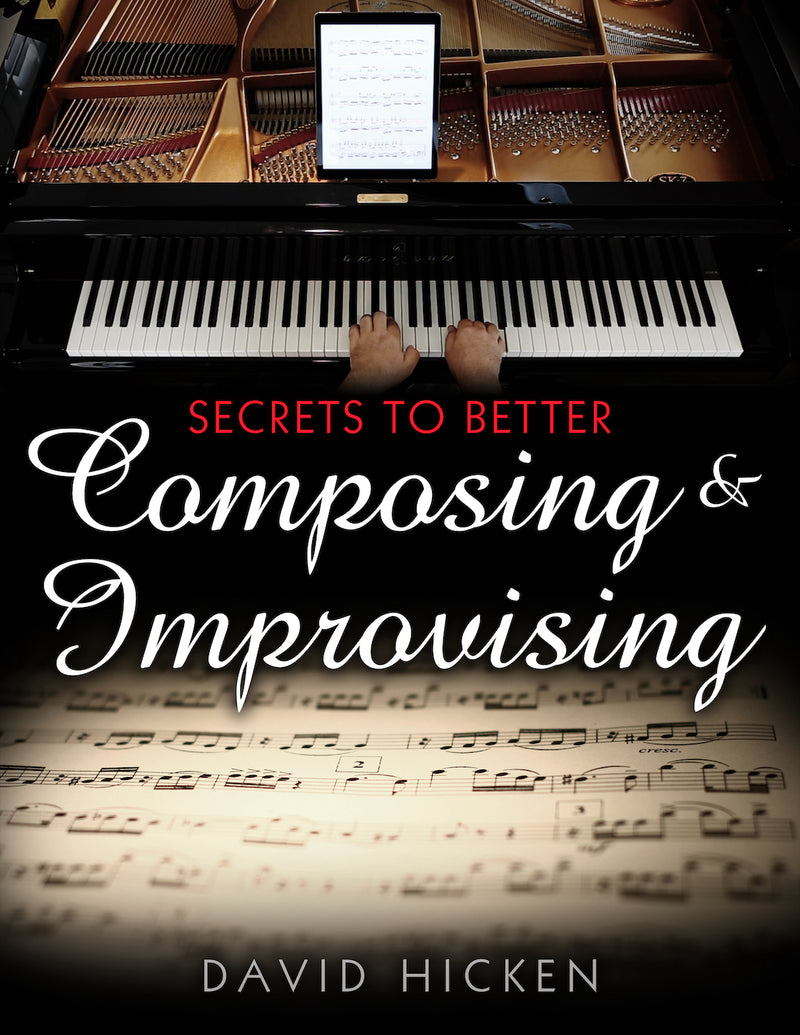 Secrets To Better Composing & Improvising
Regular Price

$24.95

Sale Price

$24.95

Regular Price

Unit Price

per
Download a free sample here!
If you have ever had an urge to write music, then this book is for you.
Written for beginners as well as accomplished musicians, it contains everything you need to get started.
Learn how to set yourself up as a composer and create a perfect working environment.
Learn why the study of music harmony, counterpoint and orchestration is essential for all composers.
Master the use of contrasting elements in your compositions to make sure that your music holds an audience's interest.
Learn to write better melodies as well as how to harmonize them properly.  Explore the differences between improvisation and composition, and why an improvisation should never be considered a finished work.  Learn how to develop your ideas using the same techniques that were used for centuries by the great composers.
Read about why anyone can compose if they are shown how, and that it is not an art reserved exclusively for people who hear music in their head.
Learn about the importance of form and structure in a composition, and why meandering music is often the first to fail.  Read all about intervals, chords, harmonic progression and voice leading.
Learn why it is better to use music notation software instead of a sequencer, and master the importance of proper meter, balanced timbre and appropriate tempo.
Learn how to identify when a melody is too long or too short and how to change it appropriately, and read all about the importance of Modulation, Movement and Tonality.
The book also includes exercises to help you master the most important chords and chord progressions. 
You will receive a link to download your file upon completion of your purchase, as well as an email with a download link.  Make sure to check your junk/spam folder if you don't receive it.
Do not try to download to a tablet or phone - only a computer!
Should your link expire, send us an email and we will take care of it for you. You will always have access to your purchases in the future.  Just send us an email and we will forward you new links.
Insightful, brilliant
No gimmicks, no pomp, and no circumstance. David is clear, conscise, and very itnuitive in this text. A great read with lots of insightful and helpful aspects of piano i had never even considered. Cannot reccomend this enough!
David is a perfectionist in all he does. I saw nothing less as I printed the book.
I really haven't had the chance to read the book, as yet. However, from glancing through it as it printed... it looks very typical of the usual perfection in any of David's works...music or otherwise. I know it's a five-star just by glancing through it.
A gem of a book
Bought "Secrets To Better Composing & Improvising" not because I want to become a composer, but because I badly needed chord exercises. Thank you David. All your instructions books are a real gem.
Secrets to better piano player
Many thanks to david hicken for publishing his books on the secret to being a good pianist. I found that the best idea ever because it helps me a lot on the piano I am now learning to have good reflexes as a musician and pianist
Secrets To Better Composing & Improvising