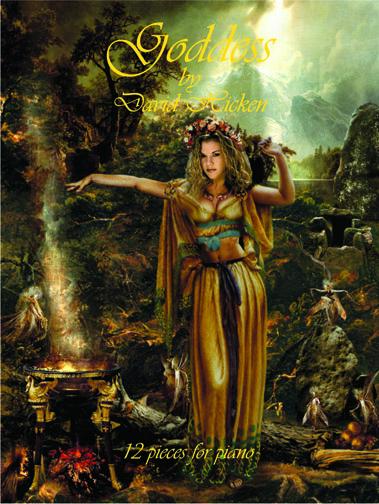 Goddess Book
Regular Price

€23,95

Sale Price

€23,95

Regular Price

Unit Price

per
This downloadable PDF book includes the
following twelve pieces:

(Click on a title to see each piece individually)
View the accompanying audio album here!

You will receive a link to download your file upon completion of your purchase, as well as
 an email with a download link.  Make sure to check your junk/spam folder if you don't receive it.
Do

not

try to download to a tablet or phone - only a computer!
Should your link expire, send us an email and we will take care of it for you. You will always have access to your purchases in the future.  Just send us an email and we will forward you new links.
Wonderful masterpieces in this book: Godess
I purchased all three books together, Goddess, Angels and Faeries, for several reasons:
. David's music, with that great inspiration, a mix of Bach and Chopin, takes me to dream musical worlds.
. As a continuation of his instructional books, it seems coherent to me to start working on his repertoire.
. My level is still very low for most of these pieces, but opening these pages, and following them with their videos, is a great stimulus for my long-term goals.
. Collaborating humbly with a genius is also a pleasure.
. Highly recommended ALL the pieces!
Amazing Music!
The pieces in this book are very nice and soothing to play. 100% Worth it!
Thanks
Merci bcp pour ces magnifiques compositions. C'est un vrai plaisir de les jouer
Inner peace and serenity
All of David's music give me an inner peace, appeasement and energy that no other composer, from the past or present, has been able to do. I decided to go back to piano after a 51 year gap. My aim is to learn Isis and I am gradually doing so. I find it very therapeutic and have never been happier and serene as I am now. Hopefully I will eventually learn Sekhmet and other soft pieces but I do admit I still have a very long way to go. David is simply the best.
My music therapy!
I purchased both the Angels and the Goddess books and have thoroughly enjoyed both listening to and learning the songs in each. Playing the piano is my therapy and the songs I have learned and polished from these books have brought me immeasurable joy! I also love the angel and goddess names that are used to title each song. Mr. Hicken is such a gifted artist and composer!