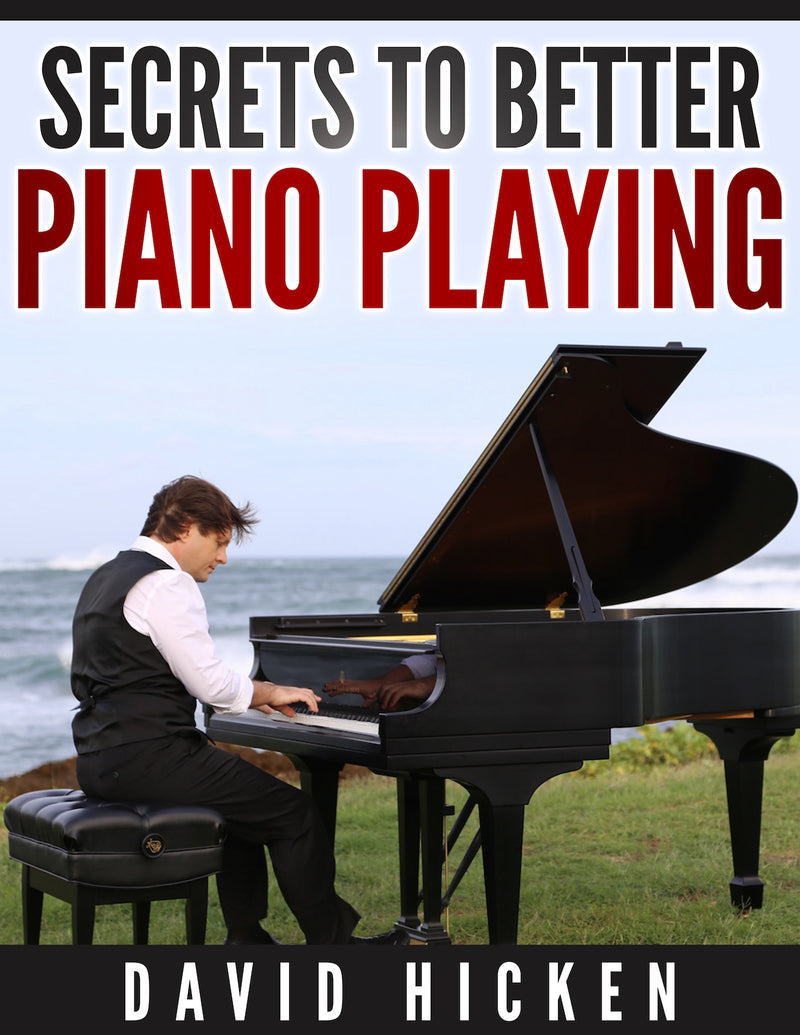 Secrets To Better Piano Playing
Regular Price

€23,95

Sale Price

€23,95

Regular Price

Unit Price

per
Download a free sample here!
Here is the missing instruction manual which will teach you exactly how and what to practice, as well as help you to improve your skills in the quickest and easiest way possible.

You will learn tips to help you to play faster, learn music more quickly, as well as improve your technique.
Learn about the importance of sight-reading, scales and arpeggios, improvisation and ear training, as well as the most common mistakes that all piano students make, and how you can avoid the same errors.
Discover the BEST way to learn any music, the most important tools for all pianists, and how the brain recognizes music.
Learn how to strengthen your fingers, know to know which fingers to use and what to listen for when practicing.
Understand the difference between playing and practicing, and utilize your practice time more wisely.  Many of the tips in the book will save you countless hours of frustration at the piano.
This book covers many other topics such as how to find a great teacher, practicing in order of importance, why memorization is damaging, choosing a good piano and why learning about harmony and counterpoint is useful.  Learn about techniques to help you perform in public with less anxiety and about the most important elements which make a great performance.
Even if you only follow a handful of suggestions in this book, your playing will almost improve exponentially.
Note : This product is also available in French and in German
You will receive a link to download your file upon completion of your purchase, as well as an email with a download link.  Make sure to check your junk/spam folder if you don't receive it.
Do not try to download to a tablet or phone - only a computer!
Should your link expire, send us an email and we will take care of it for you. You will always have access to your purchases in the future.  Just send us an email and we will forward you new links.
Very beneficial for pianists with or without academic training
David's book 'Secrets To Better Piano Playing' is an incredible support for those of us who are alone in learning the piano. I already have and use his Scales and Technique book, 'The Ultimate Piano Workout', so it was a very valuable addition to moving forward in a productive way.
Despite being a Conservatory musician (guitar), and having spent many years studying and practicing music, David has opened my eyes to many wrong decisions when facing study sessions. For example, the priority of reading over memorization. It may seem like minor advice, but it has completely and definitively changed the way I approach piano practice every day.
The book has a lot of practical advice, which I set as tasks to do, but it also transmits motivation and inspiration, just like you receive in so many of David's videos.
Art takes hard work (discipline and patience, YES !), and the book is helping me enjoy it, instead of suffer from it.
Many thanks to David for opening so many doors to new challenges for me.
A practical way to master the piano, not any of a small unheard of shortcut, more like the highway
I wish my parents would read and gift me this book many decades ago. During my music journey I experienced different ways to mastery, some which I progressed well, and others which seems to be impossible to progress on.
For start, my education started not too early on and with Solfège lessons and singing. For any pianist, being on the same path, the book is a must have.
Thanks to the free preview options on the books and beautiful melodies on Youtube - which I tend to listen for hours in one sitting, I was confident on the value the book is delivering even before bought it. Still it took me few days to read, from then on my relation with my instrument and songs are changed. Many of my inefficient habbit just went away, almost overnight thereafter. Despite I playing for many decades for my own and a small audience entertainment, the old songs get a new life. Songs that earlier I thought about being complicate to master, I became ready to give it a go. Well a kind of slowly, which is not that slow, but still.
Many of the ideas already resonated with me, Bach I also enjoy quite a lot, both listening and playing. Yes, part of the organ is easier to play compare to the whole set and legs involved, and still sounds nice.
I even enjoy the book and its wisdom, despite most of my instruments are not contains the hammer mechanics and other good parts the way as a grand piano would offer. These instruments are assist better to learn the cords though.
Beware though, I take the package offer and have the music theory and the other books at once. They are make sense to read and buy together for a pianist. It takes only a few more days to read them all.
For sure, the book will make you a better piano player, compared to my experience so far it does that faster then earlier official and non official ways I have tried during the past 3 decades.
Secrets to Better Piano Playing
I really enjoyed the book. I wanted to read it because I wanted to make there were no holes in my knowledge, and there weren't. It confirmed for me that I am doing all the things listed, and it was a rewarding feeling. I think this book will be very helpful to the serious student.
Secrets to Better Piano Playing
After retiring after my 70th birthday, I decided to go back to the piano after a 35+ year 'break'. I knew this would be a challenge but I forced myself to go back to the basic. Scales, exercises, breaking pieces down to relearn them. Then I came across David's book "Secrets to Better Piano Playing" after watching a number of his YouTube videos. He absolutely nails it for developing a proper practice regimen. His book gave me some much needed direction and allowed me to refocus on the music and not just punching keys. I've got a long way to go but his book has helped me focus on what I need to do. Patience is the key.
Love the lessons & notes
As a beginner I'm enjoying the lessons and love the notes.
Like everything else needs practice but looking at David's videos playing, helps a lot to know how to flow over the keys, and playing these notes are fun and definitely joyful to listen to.
Thank you David 🙏